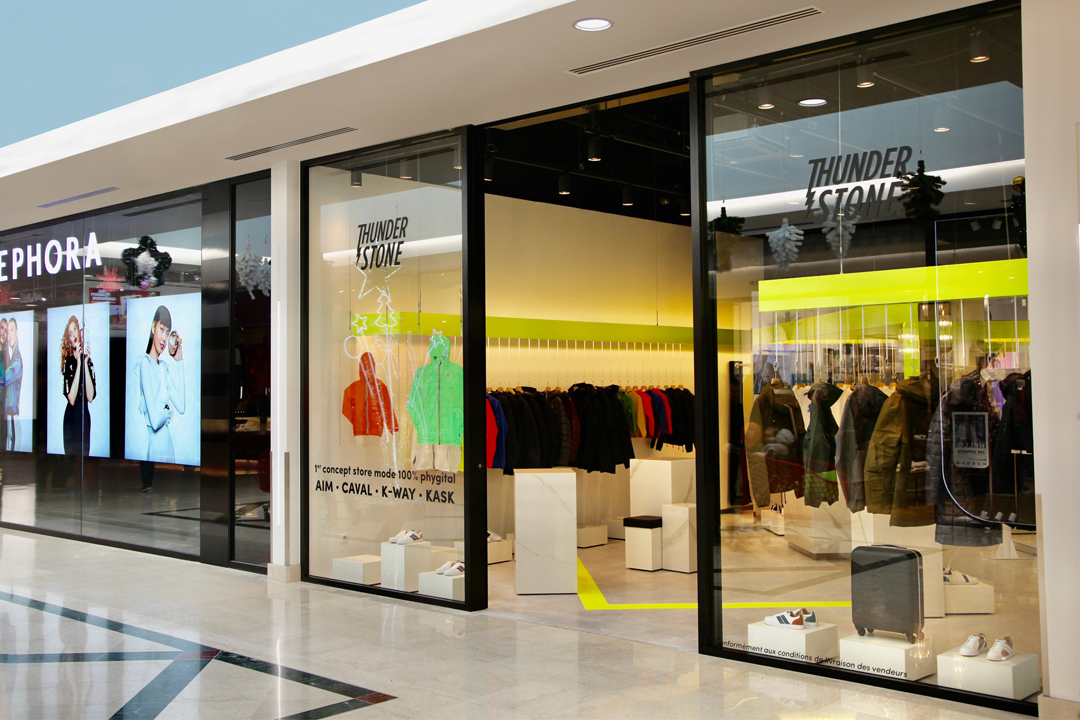 The exhibitors list, which displays in real time all the details of the companies that have already confirmed their presence, will be posted on our websites next week!

This edition will feature leading smart-retail players who will introduce you to the future of distribution, as well as smart-textiles and wearables specialists:




Thunderstone, opened last November the first 100% phygital concept store in Europe, in partnership with SCC (Shopping Center Company), the European leader in shopping centers. Thunderstone offers a revolutionary and innovative phygital solution based on two development axes: phygital concept stores and the installation of terminals for multi-brand retailers in the ready-to-wear sector. The Thunderstone concept store is a modern and refined space where several brands exhibit their pieces in showrooming (the displayed products are not intended to be sold in stores). The customer tries, orders and pays for the item of his choice at one of the store's terminals and is assisted by Thunderstone-trained salespeople. He then receives his product at home or in store, depending on his preference, within 48 hours!
SmartPixels, an all-in-one platform that develops interactive personalization solutions to help you design, sell and produce customized products. They bring together 3D artists with experienced developers and designers to create dynamic design applications. The solutions developed benefit from increased customization at each step of the process, through interactive customer experiences, online configurators, while producing accurate manufacturing files and consumer data. Combined with artistic and educational activities, their experiences attract customer attention, generate powerful conversations and stimulate user-generated content.
Exhibitions:
1/ CLARA DAVIS, sustainable fashion technologist, will present the following works:

Bioteca: selection of biomaterials samples
Bioplastics, cooking processes: video
O-Trash2: collection of biodegradable bags
Calgina: organic clothing
Milkyway: regenerative body suit

The exhibition will present Clara Davis' interdisciplinary approach to fashion, art, design, chemistry, biology and technology, all in an accessible language to facilitate the educational transmission, characteristic of the DIY culture. She questions the uses of recycled waste, biomaterials and aromatherapy for some possible future applications in the fashion industry.

2/ ARAN LABS, (former 2019 Avantex Fashion Pitch participant)
Offers a unique virtual reality environment and custom-made clothing that uses BROTHER GTX technology directly plugged on apparel printers. This process of personalizing clothing, using interactive and directly printable virtual reality, establishes the positive environmental impact that technology can bring to fashion. Visitors will be able to try out the virtual reality process to discover an abstract animation environment and create impressions for dead recycled inventory items. The animations of this virtual reality environment will connect to other animations developed for Avantex Paris, creating specific garments exclusive to the fair. At his request, BROTHER GTX will likely join ARAN LABS as a partner to effectively provide the technical aspect of printing, while managing the virtual reality experience and discussing with visitors the process of personalization and the potential of collaboration with fashion projects.
3/ HEMP & LINEN, INNOVATIONS 2020

A cross-section exhibition on hemp and linen by the members of the association Lin & chanvre bio (organic hemp & linen) orchestrated by RBX Creations (2018 former Avantex Fashion Pitch participant) including:
An exhibition of French hemp yarn and Made in France hemp jeans produced during the last tests
Traditional Vietnamese hemp fabrics with various natural dyes, and finished products (bags, dress ...) designed in Vietnam by Greencat company to promote these materials
Hemp stitch (100% or mixes, from different origins) and hemp t-shirts from the brand Patte de Loup - all made by Tricot de la Tour, one of the few knitting companies remaining in France

Different materials & products by RBX Creations to explain their progress, from traditional hemp in Vietnam through Gorfoo brand, to innovative materials development from the field to the garment (Iroony project)  :

Hemp stalks (hemp seeds by-products, enabling farmers to combine textile and food markets, which is both innovative and ecological)
Textile fibers 100% hemp or hemp-linen blend
Textile yarns from our different processes
Fabrics made in France from yarn
100% hemp-linen garment created by Sondès Jarraya
Presentation of the approach and exhibition of Made in France 100% linen t-shirts of the brand Spl!Ce, a major player in the LINportant project (cooperative of linen T-shirts manufacturing in Normandy)

Conferences and round table:
We will address the unavoidable question of preserving the environment by devoting the mornings of Monday and Wednesday to discussions and debates in this matter (limiting water consumption during dyeing and textile printing processes; questioning the potential of bio-polymers; analysing its supply chains with an ecological prism; manufacturing to order with digital technology in order to limit waste). 
The major issues related to technological innovation will be discussed with dedicated exchanges (question over the future of fashion with big-data and GAFAM; startup alliances / brands how it works)?